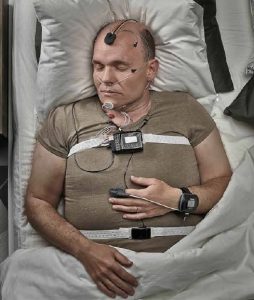 Portable (in home) sleep studies are now available in Tasmania.
Sleep studies, otherwise known as "diagnostic sleep studies" are critically important tools for determining the nature and severity of a patient's condition.
For more information, call 1300 731 615 to speak with a friendly treatment coordinator, to arrange a diagnostic sleep study or request more information.
Getting connected for the home sleep study
Until recently, sleep studies could only be performed in an 'attended' setting, typically in a hospital based sleep unit, where trained sleep scientists observe the patient throughout the night. Now in Tasmania a sleep study can be done with a portable diagnostic recorder.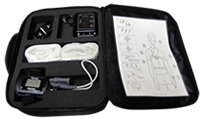 Recently we have upgraded our portable recording devices,These state of the art portable recorders allow the patient to sleep in the comfort and privacy of their own bedroom. Apart from being less daunting and less expensive, these studies also provide a more typical sleeping environment for the sleep study to be conducted in.
Our sleep studies are scored and reported by a local Tasmanian Sleep Scientist and Sleep Physician to get the most detailed and accurate results possible.
In Tasmania, most of the cost of the sleep study is covered by Medicare. If your doctor has referred you for a sleep study, contact us on 1300 731 615 to arrange an appointment, and have the portable sleep study unit fitted by a sleep therapist.
Tasmanian-based Sleep Study Scorer:
Duncan Johnson
B. Med Sci, RPSGT
Over 20 years experience in scoring sleep studies
CPAP and VPAP patient educator
Current sleep laboratory manager
Participant in QSleep – a scoring quality assurance program
Member of ASTA (Australasian Sleep Technologists Association) for over 20 years
Tasmanian-based Sleep Study Reporters:
Dr Josie Larby
Respiratory & Sleep Physician
FRACP, MBBS, BMSc (hons.)
Dr Hugh Mestitz
Sleep Physician
FRACP, MBBS
Hobart Referral Form
Launceston Referral Form
Devonport Referral Form